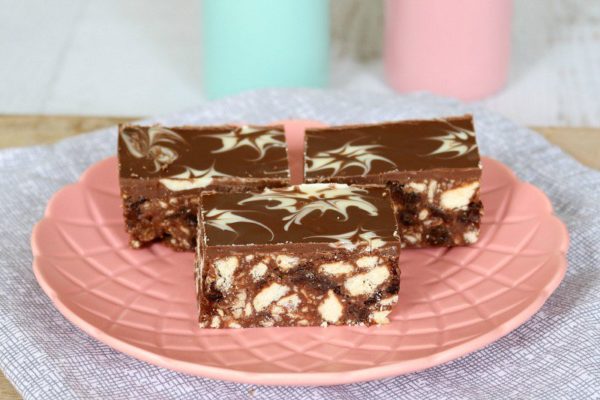 | | |
| --- | --- |
| | |
Grease and line the base of a 20cm X 20cm square tin with baking paper.

Place the biscuits into a food processor and roughly chop into small pieces. Set aside.

Place the dark chocolate and butter into a microwave safe bowl and heat on 50% power for 2-3 minutes, stirring ever 30 seconds (or until melted).

Once melted, mix in the condensed milk and sultanas. Add the biscuits and stir until well combined.

Place the mixture into the tin, spread evenly and press down firmly. Pop into the fridge for 30 minutes.

Melt the milk chocolate in a microwave safe bowl for 2-3 minutes on 50% power, stirring every 30 seconds or until melted. Pour the chocolate evenly over the slice.

Place back into the fridge for at least 30 minutes (the longer you leave it, the easier it will be to cut).

Take the slice out of the fridge and cut into slices.
*I like to leave my slices out of the fridge for about 20 minutes before cutting so that the chocolate doesn't crack. Alternatively, if you live in a fairly cool climate, you may not even need to pop it back into the fridge after pouring over the chocolate, but rather set it aside on the bench until the chocolate has set.
TIPS FOR FREEZING SLICES
you can freeze the slices as a whole or cut into individual pieces;
wrap the slice in plastic wrap then wrap in a layer of foil and place into an airtight container in the freezer (these 3 steps will keep your slices tasting great!);
slices with a soft filling (or cheesecakes) don't tend to freeze well;
slices kept in the freezer will taste best within the first month, but can last longer.
Source : https://bakeplaysmile.com/chocolate-hedgehog-slice-no-bake/