Roast Pumpkin Tart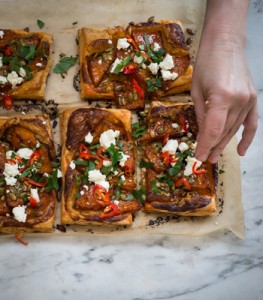 | | |
| --- | --- |
| | |
Preheat oven to 180c fan-forced (200c non-fan). Dust work surface and pastry with flour and roll pastry sheet an extra 3cm all round.

Fold pasty sheet in half, then unfold and cut down centre line, cut each piece into three equal rectangles, so you end up with six pieces.

Place on a baking tray lined with baking paper and pop in the fridge while you prepare the pumpkin.

Toss the pumpkin in one tablespoon of olive oil, paprika and one teaspoon of sea salt, roast at 180c fan-forced (200c non-fan) for 15 minutes. Allow pumpkin to cool before assembling the tarts. Increase oven to 200c fan-forced (220c non-fan).

Spread each tart with the soured cream, top with the roasted pumpkin. Toss the pumpkin seeds in a little olive oil and sea salt and sprinkle over the tarts.

Bake for 10 minutes then reduce oven to 180c fan-forced (200c non-fan) for 20 minutes or until pastry is golden brown.

Whilst the tarts are baking crush the clove of garlic with remaining teaspoon of sea salt and mix with remaining olive oil (around 1.5 tablespoons).

Remove tarts from the oven and brush with the garlic olive oil mix, top with Persian feta, chilli and parsley.