With the large box of cake mixes i was able to get my hands on i have been looking into different cheats recipes. The next one i have tried, made and eaten is Cake Mix Cookies.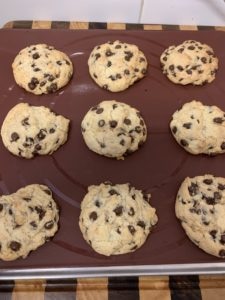 Using 1 packet of Butter Cake Mix, 60 mls Vegetable Oil, 2 Eggs and 1 cup Choc Bits. Combined all until well mixed. Scooped and placed on trays lined with baking paper, or your Tupperware Baking Mats.
Bake in a 180 degree C oven for 10-12 minutes. Allow to cool on try slightly then moved them to a wire rack.
Substitute the choc bits for anything you want or have around the house. Would be delicious with M&Ms, fruit, nuts, etc. The choices are endless.
To be honest, the 13 made did not last super long, but can be stored in a air tight container for a few weeks. We ate them in a few days 😉
Also make these as big or small as you like. These made 13 large cookies.