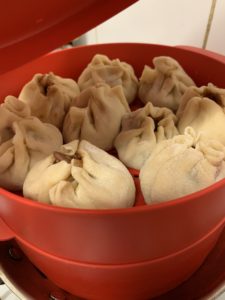 New recipe trail tonight. Never made from scratch before. Chinese BBQ Pork Steamed Buns. Recipe from Marion's Kitchen.
Now using :
Dough:
300g low gluten flour e.g. cake flour with protein content (6-8%)
70g white sugar
9g baking powder
7g instant yeast
150ml water
2 tbsp vegetable oil
Filling:
1 tbsp vegetable oil
4 tbsp finely diced onion
2 garlic cloves, finely chopped
400g (14 oz) Chinese BBQ pork, cut into small dice
½ cup char siu sauce
1 tbsp soy sauce
1 tbsp white sugar
100ml water
2 tbsp cornflour mixed with 2 tbsp water
sea salt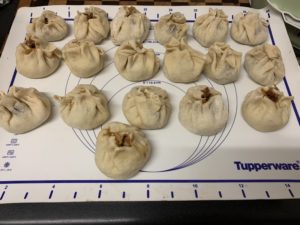 Firstly, the dough. Combining the Flour, Sugar, Baking Powder, Yeast, Water and Oil.
Don't have cake flour or any low gluten flour, what do i use? I used 300 grams of plain flour, for every 150 grams, which equalled about a cup I removed 2 tablespoons of flour and replaced with arrowroot (You can use Corn-starch as well)
Now I combined and mixed well until the dough was smooth and springy to the touch. You want to knead this for about 10 minutes. Now allow to rest for 20 minutes.
Whilst this dough is resting, I have made the filling. In a heated pan add the Oil, Onion, Garlic and pinch of Salt. Cook until softened. Add the diced Pork, I have used left over pork ribs, Char Siu Sauce, Soy Sauce, Sugar and Water, Mix well and simmer for 3-4 minutes. Now stir through the cornflour mixture to thicken. Pop filling into a bowl or on a tray and pop into the freezer to cool down.
Back to the dough. On a floured surface i have rolled out to a rough rectangle, then folded in half and rolled out again. Repeat this process two more times. Then roll into a cylinder. Now cut into about 16 pieces (mine was able to be cut into 18). Now flatten a piece of dough with your palm, then use a rolling pin to roll the edges so that they are thinner than the centre of the dough. Repeat with remaining pieces.
Place 2 heaped tablespoons of filling in the centre of a dough disc. Pleat the dough edges up and around the filling to completely enclose. Place the bun on a lined tray. Repeat with remaining dough and filling. Cover with a damp towel and rest for about an hour.
Place the buns in a steamer and cook over boiling water for 10 minutes or until dough is fluffy and cooked through.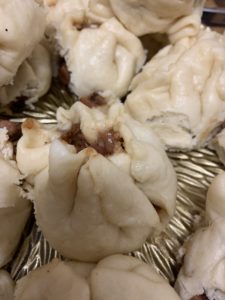 NOTES: Do Not over fill your steamer basket. These do grow. I accidentally put too many in the basket, they had space but they grew and stuck together.
Do pop a piece of baking paper to the bottom of each bun, this will stop them from sticking to the steamer basket. This was another thing i did not do and had a difficult time removing them from the steamer.
Why Use a Low Gluten Flour?
Hong Kong or Pau Flour has a similar protein content as cake flour but it is bleached and milled very fine. So if you want super white buns, then go for that. But cake flour has a little more flavour and is still bleached…just not as much as the Pau flour. Protein content directly influences how much gluten can be formed. The lower protein means less gluten forms and this makes the buns tender and fluffy.
These pork buns were delicious, very rustic from the sticking, but very delicious. I served these with a quick packet rice and they were filling. The leftovers were easily warmed in a microwave for about 30 – 60 seconds at half power.
Now also, a good FYI, you need the time to make these, these took about 3 hours to prepare. I started at 5pm and we ate at 7.30pm. These are not a normal weeknight meal.