Dinner party night. Had 11 people over to enjoy a delicious smoked Brisket, Chicken Wings, Potato Gems, Coleslaw. Yum! But the corn bread and dessert was my thing.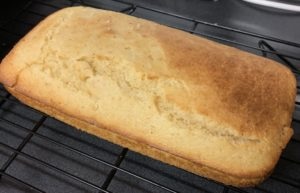 Firstly, Cornbread, found on the Taste Site.
Preheat your oven to 220 Degrees C or 200C Fan Forced. Lightly grease a loaf pan then lightly dust with flour. Shake out the excess.
Using and combining 150g Plain Flour, 3 1/2 teaspoons Baking Powder, 1 teaspoon Salt, 170g Cornmeal (Polenta), 1 1/2 tablespoons Caster Sugar, 250mls Milk, 60mls Oil and 1 Egg. Use a spoon to stir well until well combined.
Pour the mixture into the pan, bake for 25-30 minutes until a skewer inserted comes out clean. This we served up warm sliced with dinner.
Great the next day warmed drizzled with honey.
NEXT… Dessert. Chocolate Self Saucing Pudding.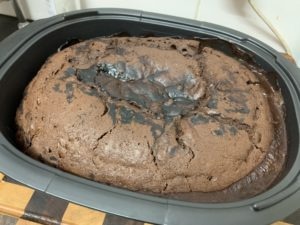 Combining the Butter, Vanilla, half of the Caster Sugar, Egg, Milk, S R Flour, half of the Cocoa in a bowl. Mix until well combined and smooth. Pour into a lightly greased dish. Combine the remaining sugar, cocoa and boiling water, then very slowly pour over the pudding mixture. Bake for about about minutes in a 180 Degree C oven, until just set. Stand for about 5 minutes. Served with ice-cream and cream.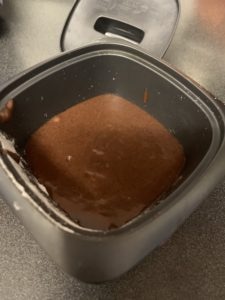 One of the dinner guests is gluten free, so to avoid missing out, a quick yet delicious (apparently) Gluten Free Chocolate Cake.
Combine 3 tablespoons Plain Gluten Free Flour, 3 tablespoons Sugar, 1 tablespoons Cocoa Powder, 1/4 teaspoon Baking Powder, Pinch of Salt, 3 tablespoons Milk, 1 tablespoons Butter, 1/2 teaspoon Vanilla Extract in a bowl until mixed well.
Pour into a mug or a microwave safe pan, microwave for 50 – 70 sec. Less microwave time results in a more molten texture. Dust with cocoa and serve with ice cream or dollop cream.