Beef Ragu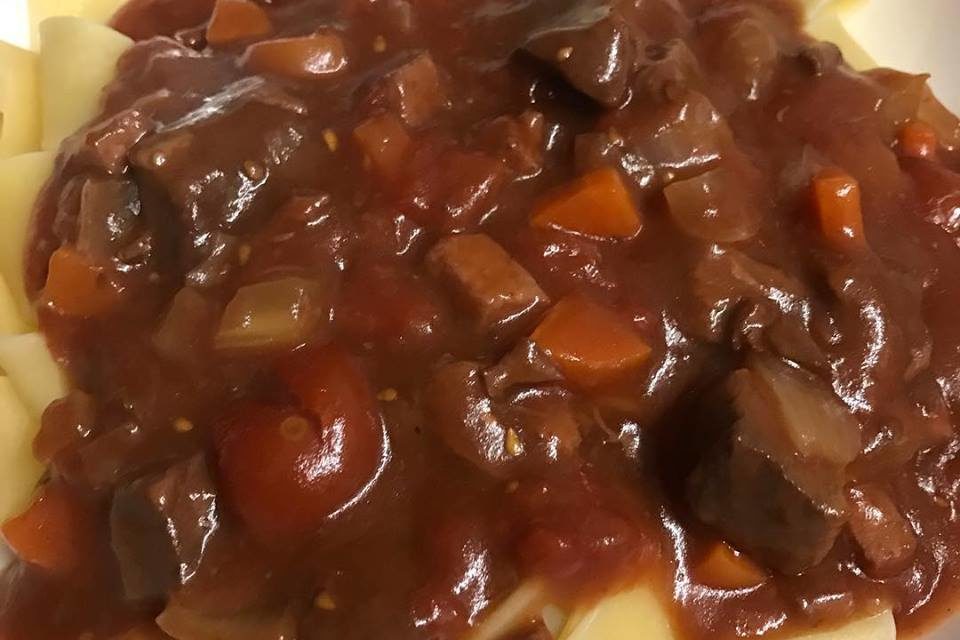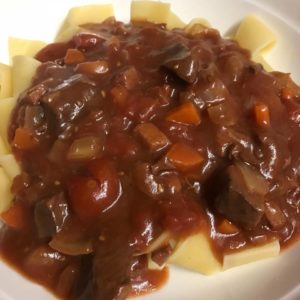 Tonight's dinner was Slow Cooked Beef Ragu and as usual i have adapted to make my own.
Starting with a little over 600 grams of diced beef and 600 grams of diced bacon. One each of brown onion, carrot and a celery stalk all diced. I have then added 220 ml of my vegetable stock, 250 mls of red wine, one 400 gram tin of cherry tomatoes and one 400 gram tin of diced tomatoes, as that was what was in the pantry and two tablespoons of tomato paste.
I have added all of these into the bowl of the slow cooker, set to low and left to cook all day. I have stirred through this every now and then through the day. At about 3 pm i have removed a small amount of sauce, say 1/2 cup, and added to this about a tablespoon of cornflour, mixed until combined, then poured back into the ragu. Left again to slowly cook through.
Again at 5.30/ 6 pm i have removed another 1/2 cup of the sauce and added another tablespoon of cornflour, stirred until combined and added back into the pot. This has then thickened the sauce up nicely.
In a pot of boiling, lightly salted, water i have added some fettuccine and cooked for 12 minutes, poured through a colander, then divided into two bowls and two reheat-able containers. I have then ladled 2 large spoonfuls of the sauce into each bowl and container and then the remaining sauce into a container by itself, this recipe does actually make enough sauce for 6 serves.
Sprinkled over some parmesan cheese and time to eat. Delish!