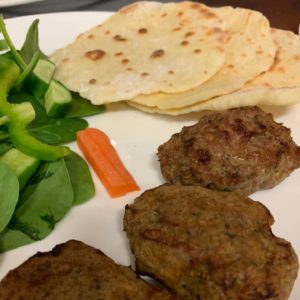 Lamb Koftas for dinner tonight with freshly made 2 ingredient flatbread.
I have added all kofta ingredients into the bowl of my food processor. Starting with the lamb, i used mince, then added one brown onion, then the mint, parsley, cumin, coriander, salt and pepper and cous cous, I used 4 tablespoons of rather than the mentioned 2.
I have processed these until well combined.
The mixture was still quite sticky and sadly i did not have the time to pop into the fridge for the recommended time. Instead, i have divided mixture into cups of my bar silicone form purchased from Chef's Toolbox a few years back.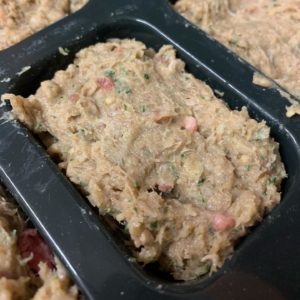 I have popped these into a 170 degree C oven Fan Forced. Have baked these for 30 minutes. I have then pulled them out of the oven, taken them from the form and placed them upside down on a baking tray and put them back in the oven for another 15 minutes so they could brown up on the other side.
Whilst the koftas were baking i have made the flatbreads. Super easy recipe. Just using 1 cup of yoghurt and 1 1/2 – 2 cups of Self Raising Flour. That's it… But how?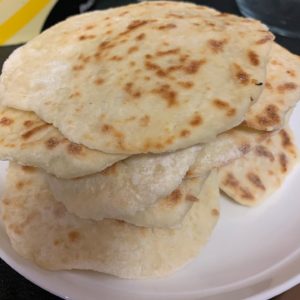 Place one cup of yoghurt in a bowl, then combine with 1 1/2 cups SR Flour, add more to the mix until you can knead the dough easily. Knead well, then divide the dough into 18 apricot sized balls.
Roll out each ball thinly. Then heat on a flat warm pan until the flatbread bubbles, turn and repeat. The repeat with all 17 other breads.
I have served the koftas, with the bread, a salad and tzatziki.