Monday 8th July 2013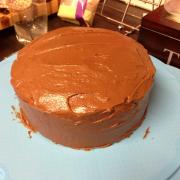 We are having a morning tea at work tomorrow and what better way to celebrate by eating and enjoying yummy food. Our morning teas consist of half to three quarters of the team bring in bought food and the rest bringing in some sort of baked goodies.
For this morning tea i have decided to make Banana Cake with Nutella Buttercream.
Didn't have to change much in this recipe, though i did go shopping to buy the ingredients before i made the cake.
First change was instead of one whole big cake, i split the batter into two round greased cake tins. I have cooked them for 50 minutes in an 180 degree oven.
Once the cakes have cooled i have cut the top off one so it is level. With the buttercream i have not used a full 13 oz container of Nutella. I think the final amount came to 9 oz and the flavour is still amazing and tastes very Nutella-ery.
So, the cakes are now completely cool. I have smeared some of the buttercream on the cake that was cut. I have then placed the other cake on top. I have then smeared the buttercream evenly all over the top and sides of the cake.
Cake then is put straight into the fridge to completely cool and the buttercream to completely set.
The verdict, so there was the top left over to try tonight. I covered it with some of the buttercream. All i can say is amazing. This cake is soft, moist and flavoursome and teamed with the Nutella buttercream just perfect.