Sunday 21st July 2013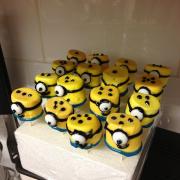 Busy cooking weekend. Yesterday made two lots of macarons and today mashmallow minions.
Firstly the macarons. Now i did cheat a little with these, i did use packet mixes but in my defence it was my first time making them and i just wanted to get the hang of them. I also wanted to have them turn out as they were made for dad as his birthday cake. So i used a Donna Hay Almond Macaron with Chocolate Filling and Adriano Zumbo Salted Caramel Macarons.
I followed the directions to the dot and they turned out perfectly. The macaroons were crispy on the outside and soft on the inside. They tasted like the ones you can buy. I was really happy. So was dad about his cake. Though he was a little disappointing that i did not make a macaroon tower.
So he made his own. What do you think?
Next was todays challenge. And a challenge it was. Marshmallow Minions.
I got a marshmallow dipped it into yellow tinted royal icing and let it dry. Then i have stuck a M&M to each as eyes and drew on them with coloured gel frosting pens.
Now, it sounds easy writing it but i had a lot of trouble with them. The icing didn't set enough and then the M&Ms were too heavy for the icing so they ran down the front and then the gel didn't want to stay were it was placed. But in the end i have finally finished and they look amazing and are drying and waiting to go to work tomorrow.