Tuesday 16th July 2013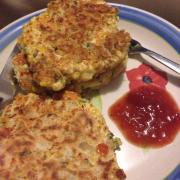 Dinner tonight was a cheat. Using the left over roast pork and roast potatoes from Friday night.
I have combined them with cheese, parsley, 3 eggs, small can of corn and self raising flour until all ingredients have been combined. I have then placed spoonfuls into an oiled hot pan and cooked for 1-2 minutes. Flipped and then cooked for a further 1-2 minutes. I have done this until all the mixture is cooked.
Served with tomato sauce and enjoyed.
In the mean time, whilst i have been cooking each fritter i have also prepared tomorrow nights dinner.
Another easy one. Sausages, potatoes, tomatoes, capsicum, carrots, tomato paste and a beef bourguignon recipe base. I have added them all to a slow cooker casserole dish.
This has then been placed into the fridge waiting for tomorrow. I will turn on the slow cooker tomorrow morning and this will be ready once i get home. Delicious, i can't wait.
Winter is always the best for stews and it makes the house smell amazing too.
When making stews in the slow cooker, you do not always need to use a recipe base but if you have one in the cupboard then use it, as i have above. Another thing to remember, just because the recipe base says use beef, mushrooms and onions only, doesn't mean you have to use just them.
When making any stews, i clear out the vegies in the fridge. Use as much as possible, makes your stew taste amazing. Just add a little extra water or stock to keep it sauce y.