Kangaroo Goulash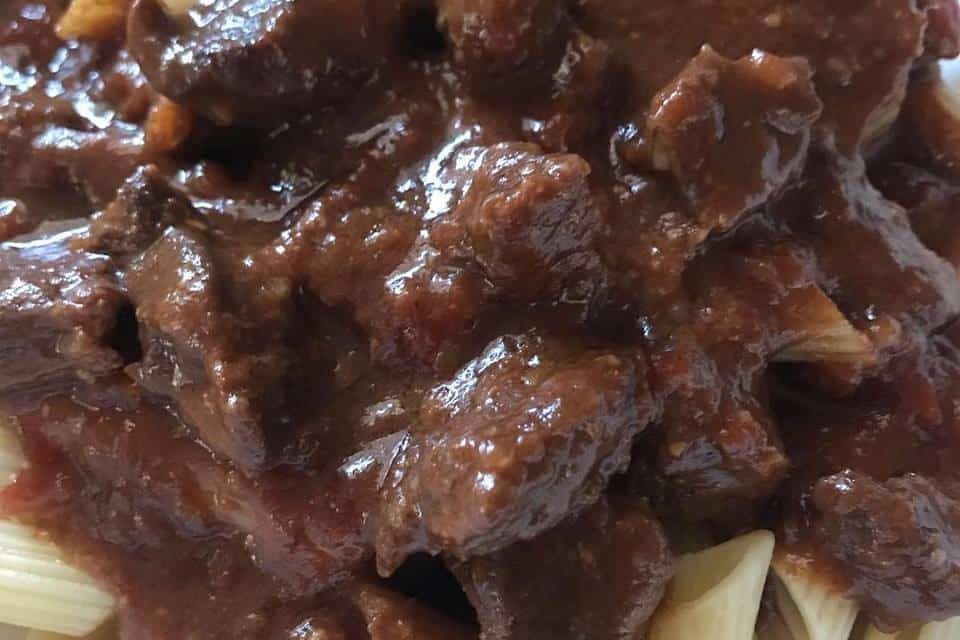 Dinner tonight was something a little different. Had some diced kangaroo in the freezer and found a recipe that sounded delish.
Kangaroo Goulash with Spiral Pasta. Though just didn't have 2 hours to prepare and cook the meal so i adapted it to the Micro Pressure Cooker.
I have diced the onion and added this to a hot pan with olive oil, garlic and smoked paprika. Cooked until soft and then removed from the pan.
Next i have added the kangaroo in batches and browned these off, once browned i have added the onion mix, diced tomatoes and 4 beef stock cubes with 400 mls water. I have brought this to the boil and then added to the bowl of the Micro Pressure Cooker.
Placed this in the microwave and cooked for 30 minutes.
Once the 30 minutes finished i have allowed the pressure cooker to rest for 15 minutes whilst the pasta was cooking.
Once the pressure cooker was able to be opened safely i have stirred the mixture, added a tablespoon of cornflour and whisked to combine and thicken, back in the microwave for 2 minutes without the cover.
Serve with the pasta and enjoy.
All up rather than 2-3 hours, dinner done in little under an hour.