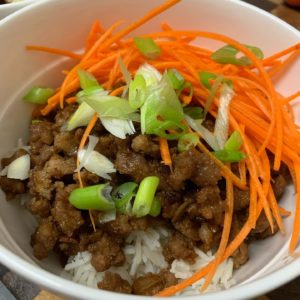 Looking for a quick and easy meal for dinner tonight. Already had some pork mince out defrosting. A quick web search for something new and came across Vietnamese Caramelised Pork Bowls.
Using a small brown onion, 2 teaspoons ginger, 2 garlic cloves, 1/2 teaspoon chilli, 2 teaspoons lemongrass. Put all these in the base of my Tupperware Turbo Chef and whizzed until brown onion just diced. These i have then added to a warm pan with some olive oil. Cooked them for about 2 minutes.
I have then added 500g pork mince and cooked until browned and combined well with the onion mixture.
Next up 5 tablespoons of brown sugar and 2 tablespoons soy sauce (recipe calls for fish sauce), stir through the mince mixture and then leave alone in the pan for 2 minutes for the juices to cook out. Then stir again and leave for another 2 minutes to get more caramelisation.
I have served this with steamed rice, cooked in the Tupperware Rice Cooker, for 12 minutes, grated carrots and spring onions sliced thinly.
This recipe was super quick and super tasty, so much flavour from these few ingredients.
The notes on the site says this recipe works great with chicken, turkey and beef.