Japanese Cotton Cheesecake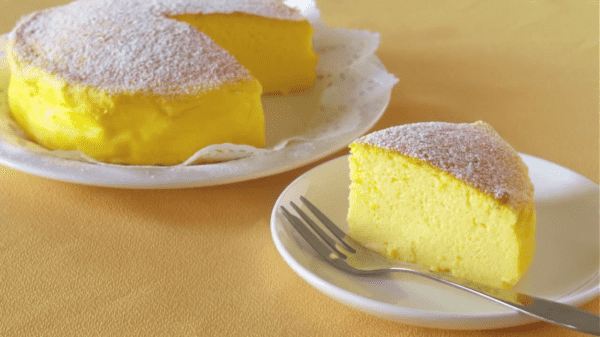 | | |
| --- | --- |
| | |
Preheat the oven to 170 degrees C.

Place the chocolate into a large bowl and slowly heat, over a double boiler, until melted.

Whip 3 egg whites with an electric mixer until firm peaks form.

Mix the chocolate until smooth.

Place the cream cheese in a bowl and stir until smooth/

Remove the bowl from the double boiler, add 3 egg yolks, and mix well.

Add 1/3 Meringue into the cream cheese batter and blend well.

The add the rest of the Maringue 1/2 at a time and mix well.

Rub some oil/ butter on baking paper (This will allow the cake to slide down when it shrinks to prevent cracking)

Line a 15cm (6 inch) round pan.

Pour the batter into the pan.

Drop the pan lightly on the counter to raise the air bubbles out of the batter.

Place onto a baking tray and pour in some hot water.

Bake at 170 degrees C for 15 minutes.

Bake at 160 degrees C for 15 minutes.

Stop the heat and bake with remaining heat for 15 minutes.

Place it on a wire rack to cool completely.

Take out of the pan and sprinkle with icing sugar.