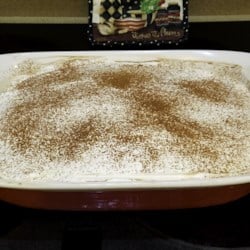 | | |
| --- | --- |
| | |
Preheat oven to 350 degrees F (175 degrees C). Grease a 9x13-inch baking dish.

Mix cake mix, water, eggs, and oil together in a bowl using an electric mixer on medium speed until batter is smooth, about 2 minutes. Pour batter into the prepared dish.

Bake in the preheated oven until a toothpick inserted in the center comes out clean, 29 to 34 minutes. Cool cake for at least 30 minutes.

Whisk sweetened condensed milk, 1/3 cup coffee-flavored liqueur, 1 tablespoon cocoa powder, espresso powder, and 1/2 teaspoon sea salt together in a bowl until drizzle is smooth.

Poke holes into cake using the large end of a chopstick or a similar tool. Pour poke drizzle over entire cake, smoothing with a spatula and ensuring the drizzle goes into the holes. Refrigerate for 2 hours.

Beat egg yolks and white sugar together in a bowl using an electric mixer until very light yellow and stiff. Add cream cheese, 3 tablespoons coffee-flavored liqueur, and 1/4 teaspoon salt; mix well.

Beat heavy whipping cream in a separate bowl until stiff peaks form; gently fold into egg yolk mixture until topping is just mixed. Pour topping over cooled cake, smoothing well. Dust with 1/2 teaspoon cocoa powder. Cover and refrigerate.