We cooked up a massive brisket in the smoker the other week. With just the two of us there was plenty of leftovers, and as good as eating leftovers are, sometimes you just need something different. PIE!
The first of the two i made, and ended up making two batches, was a Brisket and Smoked Cheese Pie recipe i found on the web.
So, using :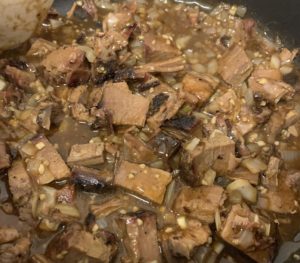 300g Smoked Beef Brisket
1 Onion, diced
2 cloves Garlic, crushed
Olive Oil
1 1/2 cups Beef Stock
1 tablespoon BBQ Sauce
1 tablespoon Worcestershire Sauce
1/2 teaspoon Cornflour
Ground Black Pepper
Pastry and Cheese
How to :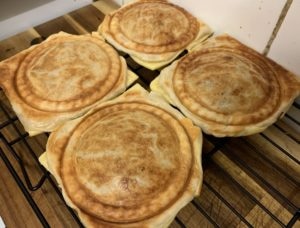 Firstly in a preheated pan add the onion, garlic and olive oil and saute over low heat until fragrant and translucent.
Add the stock, sauces and simmer for about 10 minutes. If using or needed add the cornflour to thicken the sauce.
Add in the brisket and stir through. Simmer again for a further 10 minutes. Allow to cool slightly.
I used my Sunbeam Pie Maker for this part, you can just spoon into ramekins or pie dish. But using my pie maker, i have used short cut pastry for the base, and simply cut the square of pastry into 4 squares, laid the pastry into the pie maker holes. Spooned in the pie filling, approx 1 ladle full for my pie maker. Then top with a small wedge of camembert cheese. Then top with a square of puff pastry.
Close the pie maker lid and baked for approx 10 – 15 minutes until pastry is golden.
This recipe made 12 pies.
We ate two that night, rest went into bags and in the freezer. So delicious.
The second batch of pies using leftover brisket was made into Smoked Brisket Shepherd's Pie with Mashed Potatoes.
So, using: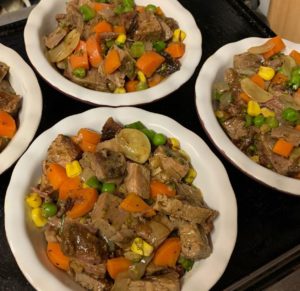 300 grams Smoked Brisket, chopped
3 Carrots, diced
6 Broccolini Stalks, chopped
2 cups frozen Peas and Corn
1 Brown Onion, diced
2 tablespoons Butter
1 tablespoon Olive Oil
1 cup Beef Stock
1 tablespoon BBQ Sauce (optional)
1 tablespoon Cornflour
2-3 cups leftover Mashed Potatoes
How to: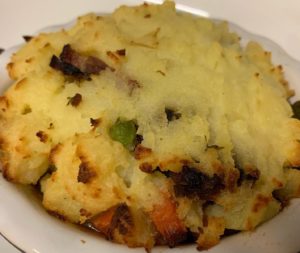 In a preheated pan, add butter and olive oil, then add the carrots and onion, saute until carrots are nearly soft. Add broccoli, mixed vegetables and brisket. Stir to combine.
Add in the stock, sauce and flour. Simmer until sauce thickens slightly.
Pour mixture into a casserole pan, pie dish, ramekins. I used 7 ramekins, my mixture made 7 pies.
Top with the mashed potato. Before adding the potato you can add some jalapenos for heat if you like. I did for only 2 of the pies.
Pop into the oven for 35 minutes at 170 degrees C or until the potatoes have turned golden brown.
Rest and enjoy, i served ours with some dinner rolls. Delicious.