Sunday 22nd September 2013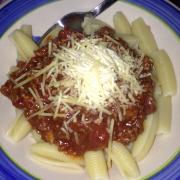 It has been awhile since my last post. So here goes a week of cooking.
First one. Saturday night dinner. Crispy Skinned Pork Belly with roast root vegies.
We have bought some pork belly from an Asian Grocer. I have scored the skin and then rubbed with oil and salt.
I have then placed the pork belly in a roasting pan skin side down for the full 1 1/2 hours in an 160c oven with the fan.
After this time i have flipped the pork over and then added 1/4 pumpkin, 1/4 of a small sweet potato, 2 potatoes and 2 carrots in the roasting pan. I have then raised the temperature to 200c with the fan and cooked for 45 minutes.
After this time the skin on the pork belly has crisped up perfectly and the vegies have become soft on the inside and crisp on the outside.While the pork was resting i have boiled some peas, corn and beans and then right at the end added some broccolini.
Monday night.
Delicious Bolognaise from scratch. Using tin of tomatoes, tomato paste, bay leaf, mince, onion, garlic and carrot.
Simmered for 30 minutes and then served with pasta and parmesan.
Whilst the Bolognaise was simmering i have made Sausage Rolls.
Using 3 sheets of puff pastry cut in half.
Combine sausage mince, mixed herbs, grated carrot and spring onion together in a bowl. On one half of each half of pastry spread on the mince mixture. The roll each up to from the sausage roll. Cut as desired and brush with milk or water. I have then sprinkled with sesame seeds. Cooked in a moderate oven for about 20 minutes.
With one sheet of pastry left i have made Strawberry Tarts. 
I have cut the pastry into 8 and on one half of the pastry sheet i have used a heart shape cutter and cut out a heart in each.
On the ones without the heart cutout i have spread with strawberry jam and then sandwiched them with the piece of pastry with the heart.
Topped with a strawberry and then placed in the oven until crisp and golden.