Sunday 7th July 2013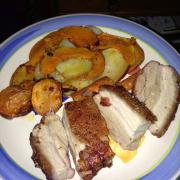 Not much cooking for this weekend. But, wanted to try making pork belly for dinner tonight. Only major thing i would do differently next time would be to make it earlier so there was more room for cooking if needed.
I have made Crispy Skinned Pork Belly
Well that recipe sort of. Yes i followed the pork side of things however, I used only 1kg of pork belly. I salted and oiled the pork and placed it in the roasting dish and cooked it at 160 with the fan for 1 hour. The meat after an hour looked amazing already at that time. I have then flipped the belly over and scored the meat a little more and added a little more salt. Added all the vegies and cooked it for a further 45-50 minutes more in an oven turned up to 200 with the fan.
The vegies included were pumpkin, sweet potato, potato and carrots. Instead of cutting them in wedges or chunks i thickly sliced them and put them in the roasting pan with a little more olive oil. The pork was cooked perfectly after this amount of time. But the only downside was the skin did not fully crisp up, the edges were beautifully crackling but the middle of the skin was a little soft.
All in all though the dish tasted great and i would definitely be making this again, just as said before with a little more time.