Tuesday 9th July 2013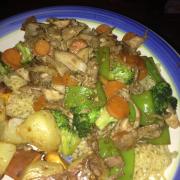 Dinner tonight was a great find. I do not eat seafood so I had to find something else to make.
What was in the fridge? Quarter of a barbecue chicken.
What to make? I actually searched the web fo help on this one and came across 10 ways to use a BBQ chicken. Interesting i thought!
Number one on the list was Chicken with Teriyaki Sauce.
Combine
1 crushed garlic clove or 1 teaspoon of already crushed garlic
2 tablespoons Soy Sauce
2 teaspoons Mirin – I used 2 teaspoons of Sherry
2 teaspoons Caster Sugar
1 tablespoon Water
Cook until heated through. Cut barbecue chicken into portions. Drizzle with sauce mixture. Serve with cooked rice or soba noodles or cucumber ribbons.
So i have broken up the chicken and placed it into a pan with a little bit of olive oil. I have heated the chicken through and then taken it out and put it aside in a bowl. I have then added 1 small chopped carrot and a handful of snow peas cut in half to the pan and stir-fried them until soft and then re-added the chicken and then added a handful of broccoli. I have then added the sauce to the pan and mixed on low. I have served up dinner with some two minute noodles and oven roasted potatoes.
All this was amazing and i was able to clear out the fridge of some left overs. Best sort of meal really.