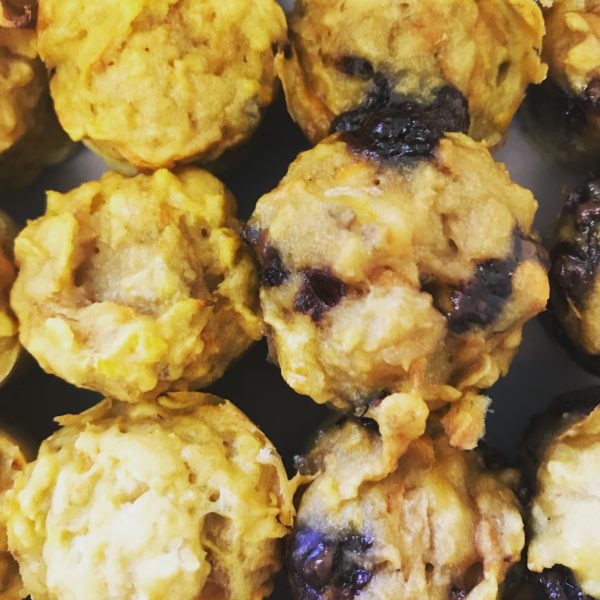 | | |
| --- | --- |
| | |
Peel and grate carrot, place apple and carrot in a pot with a little water, pop a lid on and simmer until apple soft. Usually 5-6 mins

While apple and carrot cooking, place banana in a large bowl, mash with a fork

Add eggs, vanilla, and butter/oil

Puree the cooked apple and carrot, I use a stick blender

Add apple and carrot to the other wet ingredients

Beat these wet ingredients together with a hand-held beater, should become smooth, yellow and a little frothy

Add the flour and baking powder

Beat for a further 30-60 seconds to make a well-mixed batter

Portion into an oiled muffin tin (I use a non-stick silicon tray sprayed with oil) Mix makes 12 standard sized muffins or 30 mini muffins

Bake at 180 degrees Celsius for 15 mins (350 Fahrenheit) 15 min cook time is based on making mini muffins, the mix makes approx 30 mini muffins. If you are using a standard muffin tray and making approx 12 muffins the cook time will be longer, approx 25-30 mins
These muffins can be stored in an airtight container for 3 days, or they can be frozen.
This recipe is successful without the butter/oil, but you get a softer muffin with it, and they remain softer for longer with the added butter or oil
To make the recipe dairy free, substitute the melted butter for a mild tasting vegetable oil.
15 min cook time is based on making mini muffins, the mix makes approx 30 mini muffins.
If you are using a standard muffin tray and making approx 12 muffins the cook time will be longer, approx 25-30 mins