Porridge 3 Ways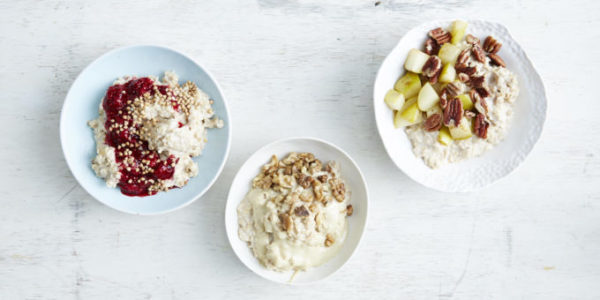 | | |
| --- | --- |
| | |
Add the oats and cinnamon to a small saucepan on a low heat. Add 1/4 cup of milk at a time, stirring, until the oats have soaked all the liquid. This will take 5-10 minutes, until the oats are nice and creamy.

Turn off the heat, adding more milk if needed and a topping of your choice.
Add 1 teaspoon of butter to a frying pan and once melted, add chopped pear and sauté until caramelised. Sprinkle over porridge with pecans.
Raspberry Chia Jam + Buckwheat Sprinkle
When the porridge has finished cooking, top with Raspberry Chia Jam and buckwheat.
In a small bowl, mix tahini with a teaspoon of boiling water until smooth. When the porridge has finished, drizzle with tahini, then sprinkle on the walnuts and the sea salt flakes.