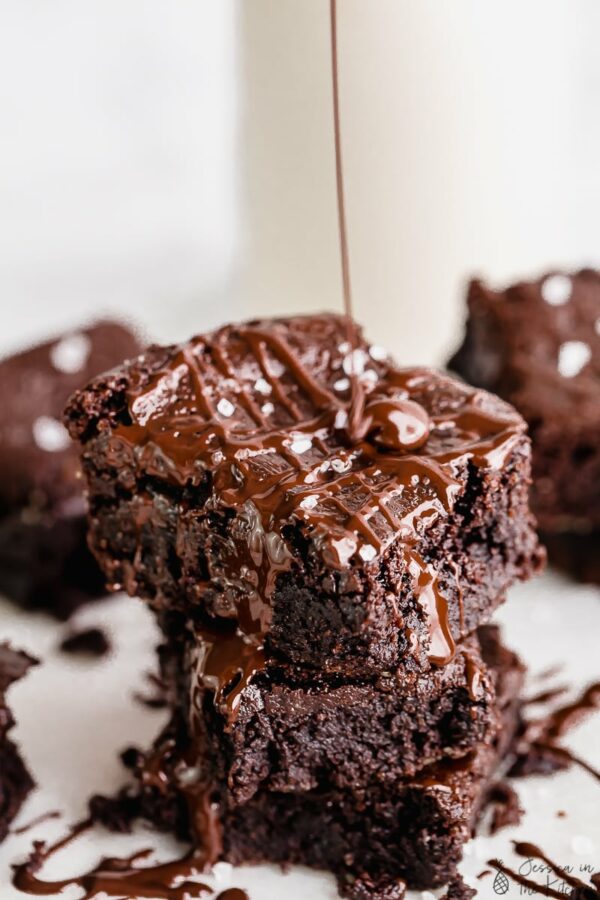 | | |
| --- | --- |
| | |
Preheat oven to 325°F/160°C.

In a large bowl, add the vegan eggs, sugar and oil and mix until combined for about 3 minutes until fully incorporated and light and fluffy. Add the water and the vanilla extract and blend for another 2 minutes.

Add the cocoa powder, almond flour, baking soda and sea salt to the wet mixture and stir for about 3 minutes until fully combined. There should be no lumps and the almond flour should be fully incorporated.

Stir in the chocolate chips. Pour into a greased, parchment-lined, or a greased foil-lined 8x8 square pan. Bake for 35 minutes, or 40-45 minutes if you prefer cake-like brownies.

When finished, remove from oven and allow to cool completely in pan on a wire rack (at least 30 minutes). Once cooled, slice into 16 slices.

For an extra nice topping, meltdown some chocolate chips in the microwave, drizzle on top and sprinkle some sea salt flakes or coarse sea salt. Enjoy!
*You can use two flax eggs. Flax meal is ground up flax seeds. You can buy flax meal or you can ground flax seeds up in a coffee grinder. Measure the tablespoon after the flax is ground up.
If you want a less chocolatey brownie, reduce two tablespoons of the cocoa powder and bake for 40 mines.
I've been making this lately with Bob's Red Mill Egg Replacer, and the results are phenomenal! I strongly recommend these since they always turn out much better than flax eggs. I make two eggs as per the package instructions!
Oil instead of vegan butter in products tend to create a moister product. If you want to use vegan butter though, all you have to do is switch out equal parts of the butter for the oil.
The pan size makes a huge difference! If you do not use an 8×8 pan for eg if you use smaller, your brownies will not be ready in the right amount of time.
PLEASE allow your brownies to cool completely! This can take anywhere from 30 minutes to 2 hours. They're always a much better texture and consistency once cooled. This is crucial for delicious, set and finished brownies. You can slice them about halfway through cooling with a knife.
Credit : https://jessicainthekitchen.com/vegan-almond-flour-brownies-gluten-free-fudgy/