Beef and Vegetable Pasties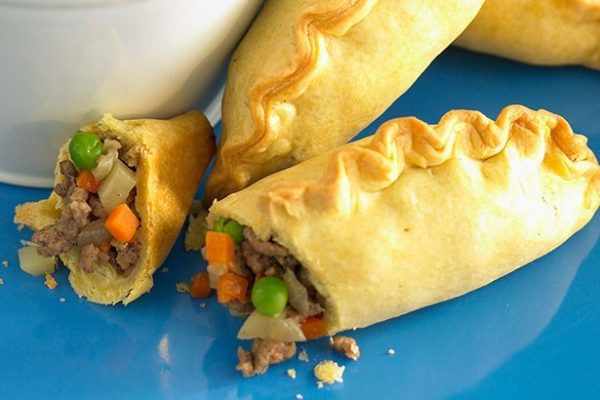 | | |
| --- | --- |
| | |
Preheat the oven to 200°C.

Heat 1 tbsp oil in a large fry pan over high heat and sauté the beef for 5 minutes, breaking up any large clumps. Strain the beef and discard liquid from pan.

Place the pan back on heat and add 1 teaspoon of oil. Add the onion, garlic, and cook for 3 minutes. Add the carrot and potato to the pan and cook for an additional 3 minutes stirring often.

Return beef to the pan, add the corn, tomato and spinach and cook a further minute or until the spinach has wilted. Remove from heat and stir through the parsley, season to taste with salt and pepper and let cool for 7 minutes.

Lay the 4 rounds of pastry onto a clean work surface and divide the filling evenly between the centre of each round of pastry. Brush the edges of the pastry with the egg wash and carefully fold and crimp the edges together to seal the pasties.

Remove the plastic and poke several small holes with a knife in the pastry to allow steam to escape whilst cooking.

Place pasties onto a baking tray lined with baking paper, brush with a little of the remaining egg wash. Sprinkle the parmesan evenly over the pasties.

Bake for 18-20 minutes or until the pastry is golden brown and the filling is cooked through.

Let sit at room temperature for 5 minutes before serving.