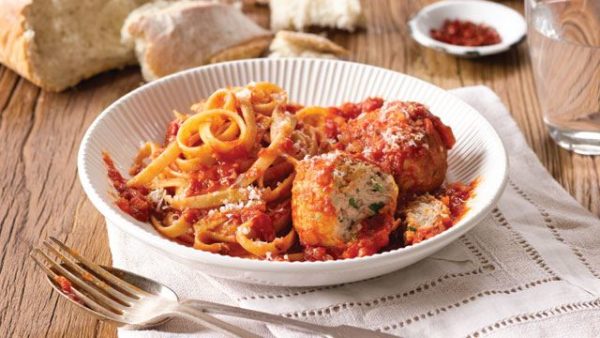 | | |
| --- | --- |
| | |
To make the Napoli sauce, heat the oil in a heavy-bottomed saucepan over medium-high heat. Add the onion and garlic and sauté for 2 minutes, then add the thyme and tomatoes and bring to the simmer.

Simmer very gently uncovered over medium-low heat stirring occasionally for 30 minutes or until the tomatoes have broken down and the sauce has thickened. Add a little water during the cooking process if the sauce thickens too much.

Remove and discard the thyme stems and season to taste with salt and pepper.

While the sauce is simmering, bring a large pot of salted water to the boil.

Now it's time to make the meatballs. Combine the chicken, breadcrumbs, parsley, Dijon mustard and egg in a large mixing bowl and season with salt and pepper.

Using your hands, gently mix until just blended. Be careful not to over mix the meat as it will toughen it up.

Form the mixture into 8-12 meatballs, dipping your hands in a bowl of cold water to stop the chicken from sticking.

Heat the oil in a large heavy-bottomed frying pan over medium heat.

Cook the meatballs until golden brown all over, about 6-8 minutes.

Using a slotted spoon, transfer the meatballs to the tomato sauce and simmer gently until the meatballs are cooked through, about 10 minutes.

Meanwhile, add the fettuccine to the boiling water and cook according to the packet directions until al denté, stirring occasionally to prevent sticking.

Drain the fettuccine and toss the pasta with some of the Napoli sauce, season to taste with salt and pepper, and divide the pasta between four serving bowls. Divide the meatballs and remaining tomato sauce evenly between the four bowls of pasta.

Sprinkle the grated parmesan cheese on top and serve.