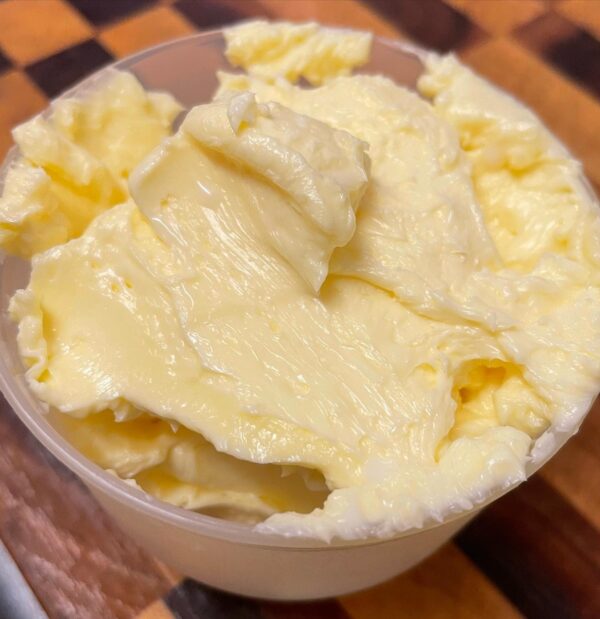 | | |
| --- | --- |
| | |
After the butter has softened to room temperature, put it in a small mixing bowl.

Add either milk or water.

Whip with a hand mixer on low speed for 1 to 2 minutes.

Increase the speed to high speed, and mix for an additional 2 to 4 minutes until the butter is light and creamy.

Serve on bread, waffles, or steak. Or use to rub over a chicken before roasting, and enjoy!
Tips
Make sure that your butter is softened. Ideally, it should be removed from the refrigerator 30 minutes before you begin whipping it so it does not get caught in the beaters. If softened, butter will combine more quickly with the liquid.
Milk will make a creamier whipped butter and would be the preferred option. Don't run to the store if you're out, though; water will do just fine.
Recipe Variations
Add Fresh or Dried Herbs: Basil, chives, oregano, and parsley make great additions to whipped butter. Simply chop fresh herbs or add small amounts of dried herbs while whipping the butter.
Creamy Brown Sugar Butter: A sweetened butter, this one's fantastic on heavy grain as well as white bread and it's perfect for fall and winter dinners.
Garlic Chive Butter: Whip it up before spreading it on Italian bread or baguettes.
Lemon Butter: Enjoy this zesty butter on white rolls and bread, English muffins, or on top of grilled fish.
Roasted Red Pepper: Looking for something more sweet-savory? Roast a red pepper and dice it up before folding it into your whipped butter.
Whipped Orange Butter: Sweet citrus comes into play with this whipped butter that can be served on quick bread, muffins, or waffles, and pancakes.
CREDIT : https://www.thespruceeats.com/homemade-whipped-butter-427820