Maltesers Slice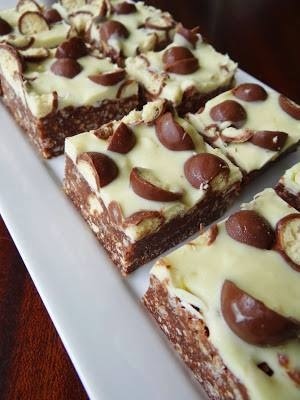 | | |
| --- | --- |
| | |
Line a slice tin (18 cm x 28 cm) with baking paper.

Place biscuits in a zip lock bag and crush with a rolling pin to a fine crumb consistency. This can also be done in a food processor.

Pour into a large bowl along with the rice bubbles and 3/4 cup halved maltesers.

In a saucepan over medium heat, add butter, condensed milk and cocoa. Whisk until melted together and smooth. Cook for 1 minute.

Pour over dry ingredients and mix until combined. Press into tin.

Break white chocolate into a bowl and heat in microwave in 30 second bursts, stirring each time until smooth.

Pour over slice. Press remaining maltesers into the chocolate.
- If you intend to refrigerate or freeze the slice for longer than 1 day, press the maltesers into the chocolate with the cut side down. They will stay crunchy. Refrigerate/ freeze until set.
- To keep your white chocolate glossy and stop it from cracking, add 1 tablespoon melted copha to the melted chocolate prior to pouring onto slice.
- Can be stored in the fridge for up to 1 week.
Original Source : https://createbakemake.com/no-bake-malteser-slice/