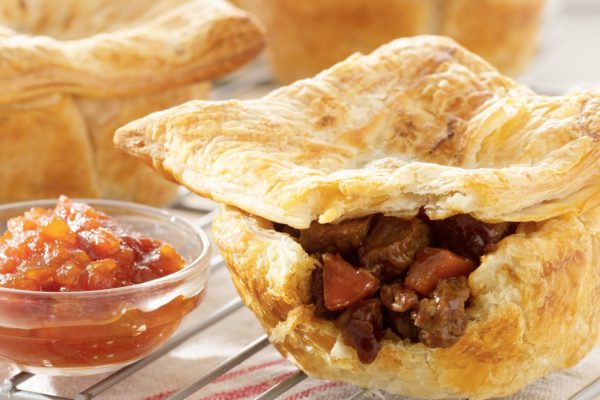 Homemade Ketchup (serving suggestion)
| | |
| --- | --- |
| Homemade Ketchup (serving suggestion) | |
Heat 1 tablespoon olive oil in a medium heavy based saucepan over high heat. Coat meat in flour and brown well in pan.

Reduce heat to medium, add ½ of the onions and garlic and cook for 4 minutes. Add carrot and celery and cook a further 4 minutes. Add coriander, soy and Worcestershire sauce and cook until almost dry. Add stock and cook for 1 hour or until meat is tender and sauce is thick. Allow to cool. Thaw pastry.
Puree tomatoes in blender. Heat remaining olive oil in a medium saucepan over medium heat and cook onion for 5-7 minutes, until soft. Add the remaining ingredients and cook for 1 hour, stirring occasionally until thick. Season to taste. Allow to cool.
Preheat oven to 200C. Place pastry sheets on floured surface and roll out to 5 mm. Cut 2 of the sheets into 8 squares in total, for the bases. Cut the third sheet into 8 equal smaller squares for the lids. Set tops aside in fridge.

Place each base into lightly greased regular muffin pan, prick a couple of times with a fork and fill with a small piece of foil. Bake for 8-10 minutes until just golden. Remove from oven and allow to cool. Fill each base with filling and top with a lid. Press down on sides to seal. Bake for 10 minutes, or until pastry is golden brown. Remove from oven and cool a few minutes. Serve with ketchup on the side.