Potato Scones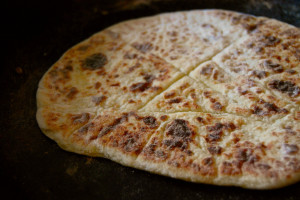 | | |
| --- | --- |
| | |
Put the potatoes in a pot unpeeled and cover with cold water. Try to get potatoes of a similar size so they cook evenly. Cover with a lid and bring to a boil, then turn the heat down to simmer for 30 minutes, or until they feel soft when pierced with a sharp knife.

Drain the potatoes and leave them to dry and cool down for about 10 minutes. When they are cool enough to handle, peel the potatoes, scraping away the skin with your hands.

Now mash the potatoes and incorporate the butter and salt. Make sure the potatoes are completely smooth. Now work in half the flour using your hands.

When that has been well incorporated add the rest of the flour. You may need to add some more flour if the dough is a bit wet. You want a fairly soft but not sticky dough. Too little flour and you won't be able to work it, too much the scones will be doughy and dry.

Heat up a girdle or heavy based frying pan over a medium high heat so it is ready to go.

Now divide the dough. I quartered it to make 16 scones, a size similar to shop bought ones, however you could divide it into 6 to make slightly smaller scones which would be easier to work.

Roll out each piece to half a centimetre thickness on a floured surface. Then immediately transfer it to the girdle – you do not need any fat to cook them.

Prick the scone all over with a fork. Bake them on either side for 3 – 4 minutes. You want to cook them fast so they get a good colour on the outside, but also not so fast that they burn and stay raw in the middle.

You can flip them more than once to make sure they are thoroughly cooked. Serve hot spread with butter, or store in the fridge to be re-heated in a frying pan for breakfast.