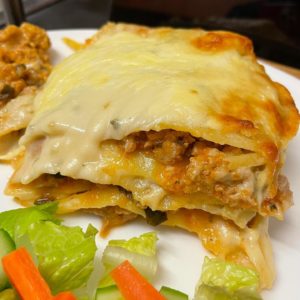 Tonight we had Lasagne, haven't made this in forever, and everyone knows from scratch is best!
First up, the Ragu Sauce, now I halved this recipe and it still made 6 serves. So using 500grams Pork Mince, 1 Brown Onion, chopped finely, 2 teaspoons Garlic, allow to brown. Then added 1/3 cup White Wine (this is all i had) and cooked for 4 minutes to evaporate slightly. Then added 500grams of my Homemade Passata Sauce, 2 tablespoons Tomato Paste, 1 tablespoon each of Fresh Basil and Oregano chopped. This I have brought to the boil, then allowed to simmer for about 30 minutes.
Next, the Béchamel Sauce, I have added 65grams of butter to a saucepan and heated until the butter started to bubble and foam, then added just under 1/2 cup of Plain Flour and stirred through to form a paste. Gently but quickly added 3 cups Milk and stirred through until smooth and started thickening. Finally added in 3/4 cup of grated cheese ( I used a mix of what was listed in the recipe, however had a Jalapeno Crumbly Cheese that i added too. ) Stirred until combined and thick.
Finally, the preparation. In my 3 litre Oval UltraPro (Tupperware) I have ladled two spoonful's of Ragu, then two sheets of lasagne sheets, then two ladles of Béchamel Sauce, two more lasagne sheets, then repeated with the remaining Ragu, Béchamel, etc. Mine made three layers of Ragu and ended with the last of the Béchamel sauce as the top layer. In the oven 180 degrees C Fan Forced for 30 minutes. I have then sprinkled over the last of the cheese in the recipe and back in the oven for a further 20 minutes.
Once done, remove from the oven and allow to cool/ rest for 15 minutes, this is important as it makes it super easy to cut and does not fall apart.
Served this with Garlic Bread and a Salad. This was so delicious.