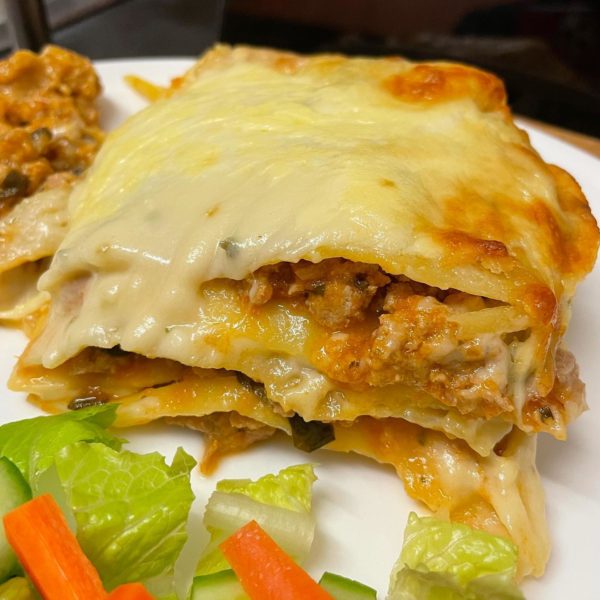 BESCIAMELLA (BECHAMEL SAUCE)
| | |
| --- | --- |
| BESCIAMELLA (BECHAMEL SAUCE) | |
Preheat oven to 180°C. Heat the oil in a large frying pan over medium heat. Add the onion and garlic. Cook, stirring occasionally, for 6-7 minutes. Increase heat to high. Add the mince. Cook, stirring with a wooden spoon to break up any lumps, for 4-5 minutes or until the mince changes colour.

Add the wine. Cook for 4 minutes or until the wine has almost evaporated. Add the passata, tomato paste, oregano and thyme. Bring to the boil. Reduce heat to medium-low. Simmer for 30 minutes or until sauce thickens. Season with salt and pepper.

Meanwhile, to make the besciamella, melt the butter in a medium saucepan over medium heat until foaming. Remove from heat. Stir in the flour. Place the pan over medium heat and cook, stirring, for 2 minutes. Remove from heat. Gradually add the milk, whisking constantly, until smooth. Place the milk mixture over medium heat and cook, stirring constantly with a wooden spoon, until the sauce thickens. Remove from heat. Add half the cheddar, half the mozzarella and half the parmesan. Stir until well combined. Stir in the nutmeg.

Spread about 2 cups of the mince mixture over the base of a 3L (12-cup) capacity, 5cm-deep, 21 x 32cm (base measurement) ovenproof dish. Arrange 3 lasagne sheets on top. Spread with 2 cups of mince mixture. Pour over 21/2 cups of besciamella. Top with 3 lasagne sheets. Continue layering with remaining mince mixture, lasagne sheets and besciamella.

Bake for 30 minutes. Combine remaining cheddar, mozzarella and parmesan. Sprinkle over the lasagne. Bake for 20 minutes or until tender and golden. Set aside for 15 minutes to stand. Serve.
Make it ahead: Prepare up to 1 day ahead. Cool. Cover with foil. Store in the fridge. To reheat, preheat oven to 180C. Cut into serving pieces in the dish. Cook, covered, for 45 minutes or until heated through.
Freezing tip: Make the lasagne in a freezerproof dish and cool. Cover with 2 layers of plastic wrap and 1 of foil. Freeze for up to 3 months. Thaw overnight in fridge. Discard plastic wrap and replace the foil. Reheat as above.
Credit : https://www.taste.com.au/recipes/lasagne-4/089773d8-31c5-41a3-b05c-0ce2419d7414