Baileys Baked Cheesecake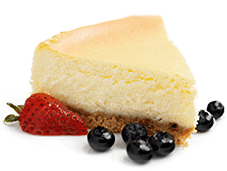 | | |
| --- | --- |
| | |
Crush up the oat biscuits with a rolling pin and mix thoroughly with the melted butter to make your base mixture.

Press the mixture firmly into the base of a 7-inch (18cm) cake tin with 3-inch (7.5cm) high sides. Pre-bake for 20 minutes at 200C/400F/gas mark 6, then remove from the oven to cool. Reduce the oven to 150C/300F/gas mark 2.

Start the top layer by melting the chocolate in a bowl over a pan of hot water. Take care not to let the bowl touch the water, and don't overheat the chocolate as it will separate.

Spoon the creamy mascarpone and fromage frais into a large bowl and whisk until smooth. Add the eggs and sugar and whisk again before adding the melted chocolate and Baileys.

Pour the mixture into the tin, smoothing it with the back of a spoon, and bake in the centre of the oven for 1 1/4 hours. After that, turn the oven off but leave the cheesecake inside until completely cold to prevent cracking.

Finally sprinkle the surface of the cheesecake with chocolate curls or shavings. To make them, melt the chocolate as before and spread on a smooth flat surface to form a 6-inch (15cm) circle and chill in the fridge for 45 minutes. Drag a cheese slicer or sharp knife across the surface of the chocolate to form curls or shavings.

Invite everyone around and serve with crème fraiche or cream.
2-3 hours Chilling Time but Overnight is Best. Serves: 12 Alcohol: Up to 0.1 units per serve