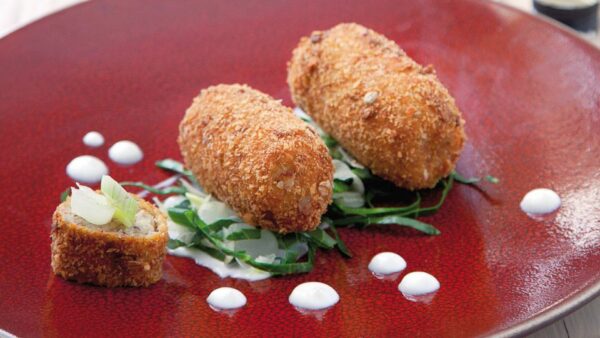 | | |
| --- | --- |
| | |
Bake the potatoes in an oven at 160ºC/gas mark 2V for 30-40 minutes in their skin. Check if they are cooked by inserting a skewer to the centre, it should come out clean and easy. If not, continue to cook until done.

Meanwhile, mix all the ingredients for the mayo together and set aside until ready to serve.

Cut the potatoes in half and, with a spoon, scoop out the centre. Add this to a ricer or use a masher or fork to mash. To this, add seasoning, the finely diced beef and mix well.

With an ice-cream scoop, scoop out the mix onto a floured surface, using your hands, roll each ball on the surface to create a cigar shape or sphere. Roll the croquettes in the eggs, followed by the milk, flour and then the breadcrumbs.

Deep fry in hot oil for a few minutes until golden and heated through.

Serve with good sauerkraut and the horseradish mayo.
We either brine or marinate the brisket overnight first before cooking. To cook the brisket, add to cold, salted water and cook on a slow simmer for four to six hours until the meat pulls apart.
CREDIT : https://foodandwine.ie/recipes/beef-brisket-croquettes