No-Bake Galaxy Cheesecake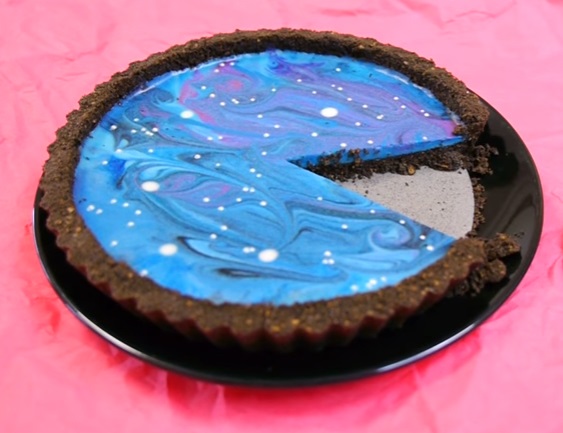 | | |
| --- | --- |
| | |
Biscuits Base: Finely crush 140g of biscuits.

Mix in 10g of black cocoa powder.

Mix in 60g of melted unsalted butter.

Pour the mixture from Step 3 into a tart mould, and using something like the bottom of a cup, firmly press the mixture into the shape of the mould.

Leave to cool in the fridge.

Preheat the oven to 180 degrees C.

Cheesecake Filling: Place 60g of marshmallows in a heat resistant container, add 80g of cream cheese, and heat in a 600w microwave for 1 minute.

Mix with a whisk. If there are any unmelted parts, heat in the microwave while keeping an eye on it.

Stir in 5g (1 teaspoon) of lemon juice.

Distribute among containers.

Add colour to your liking. This time I opted for blue, red, and black food colouring. I think leaving some areas of unmixed colour helps create a spacey vibe. As we'll be using it adjust the colour, also leave some white.

Pour the mixture from Step 13 into the base from Step 5. It's best to start with the darker colours. Adding the mixture in a fixed direction helps create the right look. Without fussing over it too much, using something like the back of a spoon, brush gently to adjust the design.

Add dots randomly using the white mixture. Sprinkle pearl, silver, or white cake sprinkles to add to the spacey vibe.

Leave to cool in the fridge for about 1 hour.
Steps 1-3 can also be completed by putting the ingredients into something like a zip lock bag and then beating it. The amount of melted unsalted butter used in the tart base should be adjusted according to the type of biscuit you use. Of course the tart base can be eaten after just cooling it. For those of you who would like a crunchy texture, we suggest baking it in the oven.