Sweet Potato Flatbread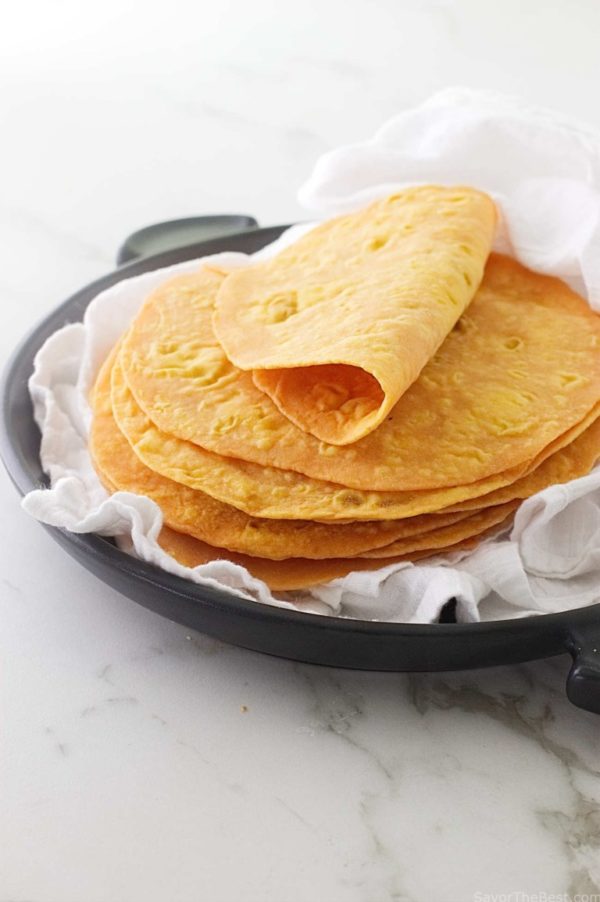 | | |
| --- | --- |
| | |
Blend the flour and salt together in a bowl then stir in the mashed sweet potato until the flour is completely absorbed. If the mixture seems wet and sticky then add a couple tablespoons of flour (some sweet potatoes have more moisture and will require a bit more flour). Allow the dough to rest for 5 to 10 minutes.

Dust the counter top with flour and shape the dough into a log then divide the dough into 8 to 10 portions and roll them into small balls.

Coat the dough balls well with flour and roll them out until they are about 1/8 of an inch thick (roughly the thickness of 2 quarters stacked on each other). If you want to make tortillas then roll them out a bit thinner.

Heat a non-stick pan on medium to medium low heat and cook for 1 to 2 minutes on each side. I like to flip them every 30 seconds to ensure they don't get too brown, if they are browning too fast I turn the skillet down a tad. If the dough puffs up as it cooks, just push the air bubbles out with a spatula.

Once each flatbread is cooked, stack them on top of each other and keep them covered with a dish towel. This is the secret to making sure the bread stays soft. The towel will hold in the steam as they cool down, keeping them soft.
The moisture content in sweet potatoes will vary greatly between the different varieties, cooking methods and age of the sweet potatoes.
You may need to add extra flour if your sweet potatoes are very moist. Just add enough flour until it feels like a soft, workable dough.
You will need a little over a pound of uncooked sweet potatoes for this recipe.
Once they are cooked the skin slides off quite easily. The fastest and easiest way to cook your sweet potato is to microwave them. Simply pierce the sweet potatoes 4 or 5 times with a sharp knife, place them on a microwavable plate and microwave them for 10 to 14 minutes (depending on the size of the potato) until they are soft. When they are cool enough to handle but still warm, the skin practically slips right off.... so easy!
You can either mash the sweet potato with a fork or give it a quick blitz in a food processor if you want a very smooth mash.
This recipe works great with whole wheat flour and most brands of gluten free flour but will be more delicate to work with.
Gluten free flour is especially more difficult to work with and the dough tends to tear easily as you transfer it to the skillet.
If using einkorn or spelt flour: 2 1/3 cups einkorn flour or spelt flour (280 grams), 1 teaspoon salt, 2 cups cooked and mashed sweet potato (about 1 pound or 454 grams)
These flatbreads store well in the fridge for 4 days or in the freezer for 6 months.
Smart Points = 4 points in 1 flatbread