Baileys Chocolate Cheesecake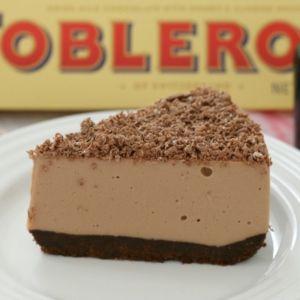 | | |
| --- | --- |
| | |
To ensure a smooth cheesecake, make sure all ingredients are at room temperature before starting.

Grease and line the base and sides of a 20cm spring-form pan with baking paper and set aside.

Finely crush the chocolate ripple biscuits in a food processor and place into a bowl.

Add the melted butter and mix until well combined.

Press the mixture firmly into the base of the pan and place into the fridge.

Whip cream and set aside.

Pour ¼ cup of boiling water into a cup, sprinkle over the gelatine and stir until dissolved. Allow to cool.

Beat the cream cheese, caster sugar and Baileys together until smooth and creamy.

Add the cooled, dissolved gelatine to the mix and beat until well combined.

Melt the Toblerone chocolate and set aside to cool.

Fold the melted chocolate and the whipped cream through the cream cheese mixture.

Spoon the mixture into the prepared tin. Spread out evenly with a spoon.

Place into the fridge for 15 minutes.

Grate over the remaining Toblerone chocolate.

Place the cheesecake back into the fridge to set for a minimum of 6 hours (for best results, leave in the fridge overnight before cutting).
This cheesecake has a subtle Baileys flavour. You can add extra Baileys to make it stronger, however if you do, you'll also need to adjust the gelatine quantity, in order to ensure that the cheesecake sets.