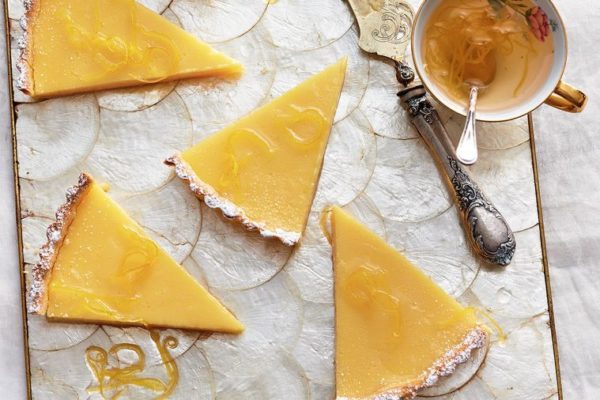 | | |
| --- | --- |
| | |
Place the flour, icing sugar, butter and lemon zest in a food processor and whiz until the mixture resembles fine crumbs. Add the yolk and tonic water and process until the mixture comes together in a smooth ball. Enclose in plastic wrap and chill for 30 minutes.

Preheat the oven to 180°C. Grease a 23cm loose-bottomed tart pan.

Roll out pastry on a lightly floured surface until 5mm thick, then use to line tart pan. Chill for a further 15 minutes.

Prick base with a fork, then line with baking paper and fill with baking weights or uncooked rice. Bake for 10 minutes, then remove the paper and weights and bake for a further 5 minutes or until the pastry is golden. Allow to cool.
Whisk the eggs, caster sugar, lemon zest and juice, cream and gin together until combined. Pour the filling into the cooled tart shell and bake for 20-25 minutes until just set.

Meanwhile, for the syrup, place the sugar, tonic water and lemon juice in a saucepan over low heat, stirring to dissolve the sugar. Add gin and juniper berries and simmer for 5-10 minutes until slightly thickened. Blanch lemon zest in boiling water for 2 minutes, then drain and add to the syrup. Simmer for a further 5 minutes. Cool completely.

Remove the juniper berries from the gin and tonic syrup, then drizzle the syrup over the tart and serve.
Source : https://www.delicious.com.au/recipes/gin-tonic-tart/9579a1e2-b0d9-4738-a91e-3857ad37ed86