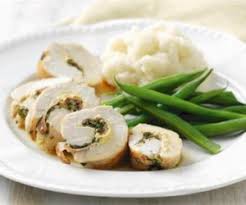 | | |
| --- | --- |
| | |
Preheat oven to 180°C or 160°C fan. Place chicken breast fillets, opened butterfly-style, skinned-side down on a board. Place a sheet of plastic wrap over each fillet and bat out gently, as thinly as possible without breaking flesh.

In a small bowl mix garlic, sage and parsley. Smear mustard on inside of fillet. Top each with prosciutto, and spoon garlic mixture over. Starting with a long edge, roll each fillet as tightly as possible and tie neatly with string in several places.

In a flameproof baking dish melt butter on medium heat. Add chicken rolls and cook for 3-4 minutes, until browned all over. Pour over chicken stock and bake for 10 minutes, until juices run clear when pierced with a skewer.

Remove from oven, cover with foil and set aside for 5 minutes to rest. Remove string. Slice each roll into 2 cm thick slices and arrange on heated dinner plates, spooning cooking juices over.

Mashed potatoes: peel potatoes, leaving them whole or halved. Place in a pan with cold water and a good pinch of salt. Cover and cook on medium heat for 20-30 minutes, until the potatoes are easily pierced. Drain well, and return to the heat for 30-60 seconds to dry out a little. Mash then beat in a knob of butter and ½-1 cup of hot milk until light and fluffy. Season with sea salt and freshly ground pepper.