Salted Pistachio Nutella Cookies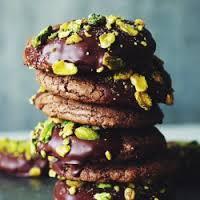 | | |
| --- | --- |
| | |
Mix butter and sugars together in a large bowl, then beat in the eggs and vanilla (using a spoon is fine). Melt Nutella in a bowl in the microwave for about 20 seconds then pour into the bowl and mix thoroughly. Add the flour and salt and stir until fully combined (will be a fairly stiff dough).

Place the bowl in the fridge for about 20-30 minutes.

Preheat the oven to 175C and line your trays with baking paper. When the dough is cooled place scoops onto the trays and flatten slightly with your hand. The recipe says to use a 2 tablespoon cookie scoop, so i used a soup spoon and scooped up what i thought was about 2 tablespoons.

As you can see from the pictures i think it was much more than that! My cookies turned out huge. But, that's an option if you want large Subway-size cookies.

Bake the cookies for 8-10 minutes until the edges begin to firm up, don't worry if the centres are still underdone. I found the giant cookies needed about 15 minutes. Cool on the tray for a minute or two then remove to a cooling rack to cool completely.

Grind pistachios using a food processor - not too much, some large chunks should remain. Melt the chocolate and let it cool slightly, then dip each cookie halfway into the chocolate. Remove any excess off the bottom and place the cookie on some waxed or coated baking paper.

Immediately sprinkle a pinch of salt over each chocolate half, followed by the pistachios. Let chocolate cool and set completely before serving.