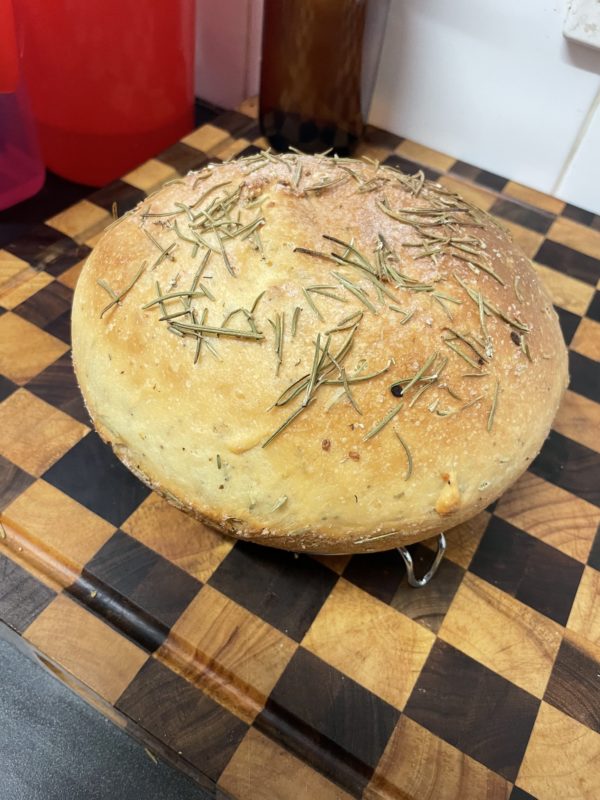 | | |
| --- | --- |
| | |
In large bowl, Sprinkle yeast into 1 cup warm water. Mix in the sugar and salt. Let sit for about 10 minutes or until it foams. Add in olive oil. Add flour and knead (by hand or stand mixer/hook) for about 10 minutes.

Add rosemary, black pepper, and oregano. Knead another 5 minutes. Finally, gently knead in roasted garlic by hand, about 1 minute. Dough should come together well at this point; slightly sticky is fine, but still should be manageable.

Place dough ball in well oiled bowl, turning dough a few times so that dough surfaces are protected by oil. Tightly cover bowl with cling wrap. Place in warm, draft-free area to rise until dough is doubled, approx. 1 hour, depending on room temp (if your room is cooler, it could take 2 hours.)

After dough is doubled, gently punch it down and shape into a rounded loaf. Using sharp knife, make a criss-cross design on top. Place rounded loaf on greased baking sheet. Cover up loaf with large mixing bowl inverted over it. Make sure bowl is large enough that it gives your loaf room to rise. Let rise until doubled again, approximately 1 hour.

After dough has doubled again, very gently brush with olive oil, sprinkle with coarse sea salt and a bit more rosemary. Try not to deflate loaf at all.

Bake at 375F for 25-30 minutes, spraying loaf with water once during the middle of baking. Bump oven up to 425F and spray loaf with water again. Watch carefully – bake just until top is a nice golden brown, taking care not to over bake.

Let bread rest 5 minutes before cutting into it. Serve bread fresh and warm, with your favourite blend of good olive oil, freshly ground black pepper, and balsamic vinegar!
Credit : https://www.chewoutloud.com/